Troll For Bigger Muskies
 Trolling open waters for the big girls!
Let's face it…..it's not getting any easier to catch a Musky over thirty pounds. Now days , I think the myth of 10,000 casts is getting closer to being true for a fish that size!  Every year thousands of  fisherman beat the waters on our northern Musky waters only to come home with some memory of  a big Musky that followed their lure or maybe the famous one that got away.  Many would given their left testicle to land a  Musky over twenty pounds….. Fishing pressure has forced the remaining trophy sized Muskies to adjust and adapt. Although, today's Musky hunters do not fully understand the adjustments and adaptations that they have to  be done to combat the pressure. Most of your more promising structures and weed beds have been hit so hard, it a wonder there are any Muskies left at all.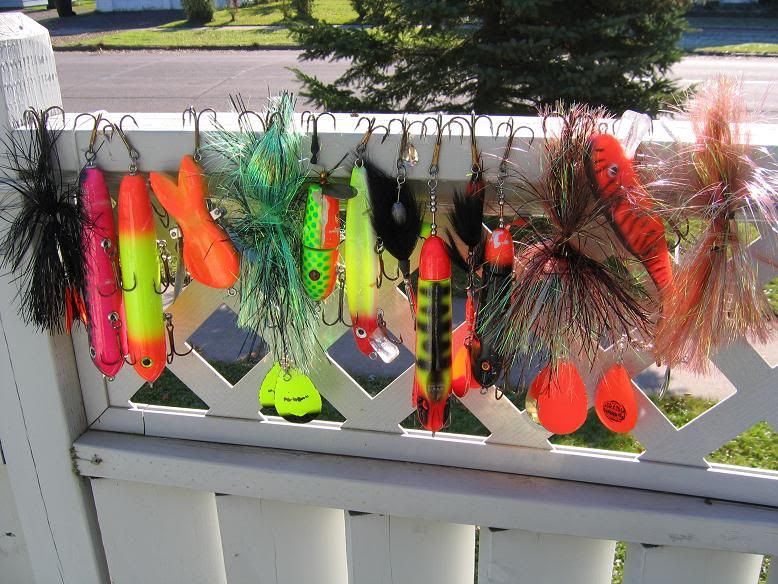 A mess of popular Musky trolling lures…..
There is no shortage of articles written about trolling for Muskies. Their are  gobs written about the use of planer boards, leadcore, downriggers and flat lines. Just Google 'trolling for Musky' on the web, and you will see for yourself.  The howis probably not as important as the where when we talk about trolling for Musky…..Lake St. Clair is my first choice, although there are some super lakes up north in Wisconsin,  Minnesota, and  in Canada that allow motor trolling for Musky.
The myth that motor trolling for Muskies is hurting the Musky population is stupid and wrong! The idea that it is too easy a method to catch a Musky is just not true!
If there is one thing I learned about how to catch a Musky, it's this:  There is no one method that can be used to catch Muskies consistently, and anyone that says there is, is full of it! I don't just make a statement like that without some proof ! Over my many years of  fishing for the elusive beasts,  I have used every method known to the human race to capture a trophy large enough to mount! (30 lbs +)  It doesn't take a mental giant to know that you can cover more water, with more rods,  much easier by trolling. However, that is where any advantage ends!  Musky hunters that cast can use some tricks that trollers can't. They can cast where the big girls hang out, like drop offs next to weed beds, or openings  and pockets in a large weed bed. They can use figure eights, or change quickly to another rod with a different lure. Casters can work shorelines, small bays, inlets, shallower fish holding boulders and rock bars etc. How about those stumpy areas? Try trolling those areas, which account for most of the legals caught every year.
There is one thing I noticed of all novice or semi-experienced Musky fisherman. After they launch their boats, the first thing they do is go to the nearest weed bed, position their boats on the edge to begin their relentless, mindless pursuit of a big Musky…..The problem with that is their chances of catching a thirty-pound Musky are next to zero.  I learned this the hard way! You see, I was there and done that myself until it finally became evident that I was wasting my time. It is kinda hard to fathom, but even most Musky guides do the exact same thing. They have the mind set that if you have to hire someone to catch a fish, you would equally be happy to catch a 33 inch baby, that has to be released.  Unless you make it known you are after a trophy fish they will keep you there. Even  then, most guides will save the big Musky haunts for their regular customers with the bucks! Besides, no one can even come close to guaranteeing  a Musky anyway!
Today,  the vast majority of big Muskies roam the deeper open water feeding strictly on suspended  forage.   Food and shelter are the two factors needed for a big Muskies existence. I guess that is pretty much true of all living things, including us!
The open water provides a safe and secluded environment. On top of that, the forage that relates to open water, such as Ciscoes, Tullibee, Whitefish and Gizzard Shad are high in protein and fat, extremely oily and rate tops on a Muskies menu.  Since Muskies pretty much have the rein over what they choose to eat,  safety  becomes the number one factor in choosing where they want to live. Although both the shallows and the open waters provide adequate food sources, the deeper water offers additional safety and seclusion. Since the tasty bait fish are nearly always found suspended, Muskies can and do indeed garbage up on them when ever they feel kike it.
Open water Fishing at Lake St.Clair
After fishing for Musky in Wisconsin and Canada for many years, I think your best shot to hook up with a trophy Musky,  is at  Lake Saint Clair in Michigan. This super fishery system contains Lake St. Clair, St. Clair river and Detroit river. Studies have shown that this chain has more musky per square mile than anywhere else in the world.
It's been reported that there are more than 50,000 Musky over 30" in Lake St Clair alone.
There are a number of factors that exist on Lake St Clair that are the ingredients to a world class musky
fishery. The lake covers 420 square miles, has an  average depth  of only 10 feet, receives a constant flow
of cold clean water from Lake Huron, vast shallow flats that are the perfect spawning grounds, and  71 miles
of 20-50ft deep fast flowing current in the St Clair River and Detroit River that are full of musky. These are
just a few of the things that makes the Lake St Clair chain such a fantastic Musky fishery.
Also, many years ago it was normal for the lake water to be a muddy color. Now after the accidental
introduction of the zebra mussel the water is at times almost gin clear making it very easy for musky to see
and be more efficient at feeding on their prey. But the biggest factor that keeps St Clair as a world class
fishery is CATCH AND RELEASE! …..The Musky season opens the first Saturday in June, so all the "ski" heads, head to the dumping grounds or Anchor Bay. Musky trolling is a little different than trolling for salmon. The lures can be about the size of a shoe  tied to heavy braided line with a 24″-36″ steel leader. You can forget about anything mono unless you want to cry all the way home because a monster trophy Musky cut your line in its gill plate!  Trolling can be at a fast pace, like 4-5 mph.  The rods have to be extra stout to hold up to the weight and trolling speed of these large baits.  Later in the season the muskies head to the southern shoreline and the fishermen follow them there. Trolling off the Belle river hump, Stony Point, and over to the Thames River really takes off. The fall is trophy time on Lake St. Clair!
"One summer, I was trolling my favorite lure through a known hot spot. As I made my way there, I noticed a couple of casters working the spot really good. Undaunted, I continued my trolling run along a sharp drop-off, and connected with a  30 pounder in an area they just vacated. Trolling put my lure in the strike zone, where casting could not reach.
With few exceptions, casting is most effective for water under 10 feet. Anglers cast to specific areas: rock piles, weed patches, etc. Trolling is most effective when fish move into deeper water, cruising open water, especially when there are suspended baitfish. The deep water between points and sunken islands are favourite and productive trolling areas.
In the spring, before the weed growth, fish move off the shelves into deeper water, where they are vulnerable to trolling along the drop-offs.
In the summer, Muskie will suspend in deeper water, where trolling deep diving crankbaits works well.  These fish will move to ambush areas in shallow water, for the casters.
Sharp drop-offs attract bait fish along the face of the wall, in turn attracting suspended Muskie to these prime feeding areas. Trolling is the most efficient way to present the lure to these fish.
Fall is the classic time for trolling. The colder water moves the forage base to  structure in deeper water, and away from dying weed beds. The deep Muskie move up to the structure to feed on the bait fish before winter while the shallow fish follow the schools of  bait fish, to feed. Look for deeper structures adjacent to the dying weed beds, and deeper rock piles and points.
Trolling Speed: It's true that Musky Hunters find more success trolling faster than they would for Walleye, but there is a limit. A good Walleye speed is around 2-miles per hour. I have seen many musky fisherman trolling as fast as 10-miles per hour.  Although, I have yet to see a trophy over thirty pounds caught at that speed. The thing to remember is that big muskies look for easy meals and do not like to work that hard. The best all around speed is around 3-4 miles an hour. So slow down, and you just might catch your first trophy Musky over thirty pounds.
This is what the great Len Hartman  (a well known musky fishing expert) had to say about trolling vs casting:
Trolling may not be the most exciting way to spend your time on the water, but it can be the most productive. Make sure that your line is far enough, that the drag is properly set: then point the rod back towards the lure, and wait. It is easy when you get used to it!
Deep water trolling caught many more fish for us in the plus-40 pound class than we were able to get by casting.
If you are on a body of water where there are deep holes or channels, the prize fish you are looking for is more apt to be down there than cruising near the surface with his younger relatives.
Trolling along a reef, or making big circles around it, will bring a musky faster to your lure than casting will.
Since there is less slack in your line when you troll, as opposed to casting, your hook-up changes are greatly improved.
Bait fish which inhabit deeper water are slow movers, and never in a hurry. Muskies down at those depths don't require speedily-retrived lures to draw them into action. So be patient, and expect a miracle! It has happened to most of those whose names you most often whenever big catches are being discussed.
If you continue to fish in shallow lakes and rivers, trolling will not change your luck. It will only serve to spook the fish away from your good spots. Casting is probably the way to go…..However, don't expect to come home with a trophy musky over 30 pounds. Records show that your bigger, deeper lakes produce the bigger muskies.
Len Hartman also says that you should troll about 3 mph and never fast!
Many of your better Musky lakes have banned motor trolling anyway, and the ones that are left are  far and few between! Open water trolling is only effective on some lakes, and certainly not enough  to bother anyone!
If a crusade is to be made to outlaw any method of Musky fishing, it should be the use of live bait and  SUCKERS!  Many of your noted Musky Hunters believe that releasing a musky caught by a SUCKER is releasing a  dead Musky!
 The authorities should spend  more of their time worrying  about  poachers, netters and the suckers fishing with suckers!  They probably kill more small Muskies than all the motor trollers combined.
 There should  also be more attention given towards the polluters and  the boaters that use our great Musky lakes for their play grounds. I'm talking about the nut jobs that disrupt the natural habitat with their jet skies, water skiing and speed boating!
My  final thought about trolling for Muskies:
Except for Sucker fishing and netting, I really don't have a problem with any method, as long as it is legal….. I do troll on lakes where it is legal, and on deeper lakes if allowed….. Generally, I troll later in the day when my arms and legs are about to fall off!  To me, it's a way to keep a line in the water while I sit on my ass to take a much needed break!
GO FOR IT…..GOOD LUCK!