Dipsi Divers(The Poor Man's Down Rigger)
The Famous Dipsy Diver (The poor man's downrigger)
Dipsi Divers, often called a poor man's downrigger, are one of the greatest trolling  inventions of recent times.  In many ways, I think that  are even more effective than downriggers, because of the spread they offer(above). Downriggers are more effective in the Summer months when fish are deeper.  Both account for most  of  the salmon caught  on the Great Lakes every year. If someone were to keep track, I think they would find that they even out produce downriggers. Simply because they are used more often and are easier to store and use.  Maybe the two should not even be compared to each other, as they both have there own set of advantages. 
Spring on the southern shores of  Indiana/Illinois  shores offers fantastic action on the lake for Coho, Steelhead Trout and Brown trout.  This time of year,  most of the action will come trolling with Dipsi Divers, flat lines and  planer boards. I usually set up two Dipsy Divers, two planer boards  and two flat lines .  I'll look for the warmest water I can find and usually fish  the surface down to about fifteen feet…..I run my flat lines down about one to three feet , planer boards about three to six feet and my Dipsy Divers somewhere between eight and twelve feet. This spread will bring more fish than you can put in your cooler if the right lures are used! My Great Lakes trolling flies w/flashers on my Dipsi's are top producers this time of year. I like Rapala's on my flat lines and various other lures on my planers.
Because of the strain and weight when trolling diving planers, your everyday plastic rod holders can and will break!  The only ones I use are called the Down-East S-17 Salty rod holders…..I have one on each side of my boat.  I don't sell them and have no interest in the companies that do sell them. I only know they are the best you can buy….. Using diving planers, leadline and heavy tackle trolling for Musky is no problem. The terrific design allows for a quick pull up of the rod instead of pulling out.   They run about $40.00, and are worth every penny!
DOWN-EAST S-17 SALTY ROD HOLDER
Game fish up to 85 lbs is no problem!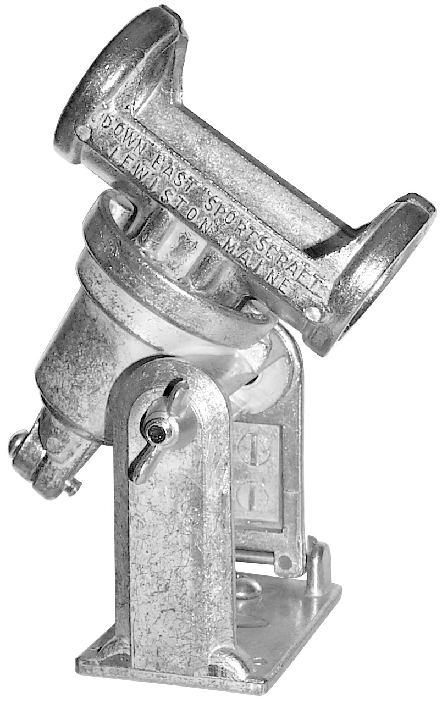 For up to 100 lbs. Test Line
Holds up to 1-3/8 inches diameter rods
All-Metal Construction, NO PLASTIC
Uses trolling rods, bait casting, spinning rods, fly rods and salt water rigs.
building…..more to come